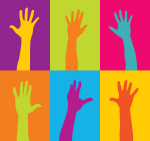 "The heart of a volunteer is not measured in size, but by the depth of the commitment to make a difference in the lives of others."  –DeAnn Hollis
VIPS– Volunteers in Public Schools
We have many volunteer needs and opportunities this year at CSE.  There are jobs that need to be done in school as well as outside the school.  We have long term projects as well as short term volunteer opportunities.  Any bit of time you can give to the school makes a huge difference for our kids!
Here are some of the PTA committees for the current school year.  If any strike your fancy, contact our VP, VIPS/Membership for more information.  There are also many other volunteer opportunities available at CSE.
Reminder: You will also need to complete a FBISD Background check prior to volunteering at the school.  This can be found under the Useful links tab on the website..
Committees:
Library: chair: 
supports the librarian and coordinates library volunteers
Hospitality / Teacher Appreciation: chair:
develops and executes the teacher appreciation calendar for the year, coordinating with the school hospitality committee and student council.
sends out birthday, sympathy, congratulation cards, etc. to the staff on behalf of the PTA
Shared Dreams: chair-
communicates with the Shared Dreams coordinator to determine current needs. Develops campaign and coordinates volunteers for CSE's dates.
Sponsorship: chair–  
works with VP- Fundraising to work with prior sponsors and establish new corporate sponsors
Color Your Chameleon: chairs: 
Collects school donations and tracks progress at school
Birthday Committee: chair– 
Works with board and principal to create birthday treat bags for parents to purchase for the kids in school.
Outreach Committee: chair– 
coordinates activities that PTA is invited to attend (Telfair Splash Day, Telfair Outdoor movie, Telfair Egg Hunt, etc.)
Crazy Chameleon Family Fun Night: chairs– 
determines games / activities/ ticket pricing, ensures we have all games / activities prepared, supplies purchased, contracts signed
coordinates volunteers
decides the food vendor
Lost and Found: chair–
collects lost items
determines a means of advertising lost items and process to return the items to their rightful owners – 2 times a year
washes items (Clothes) that have not been redeemed – 2 times a year
delivers the unredeemed items to Shared Dreams – 2 times a year
For the current list of the this school year's committee chairs, please click here.